9/1/2019
michelemayaw@gmail.com
Writing SQL Queries: Formatting Numbers as Currency
---
Data results that represent money or currency display as unformatted. In this post I will show how to format the results as currency.
TOOLS: Microsoft SQL Server Management Studio v17.3; AdventureWorks2008
TASK: Display unformatted SQL results as currency
SOLUTION:
The image below shows the unformatted SQL results.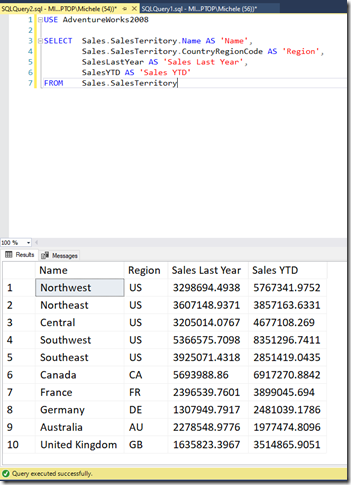 To display the 'Sales Last Year' and 'Sales YTD' results as currency add the highlighted function to your query.
FORMAT(SalesLastYear, 'C')
FORMAT(SalesYTD , 'C')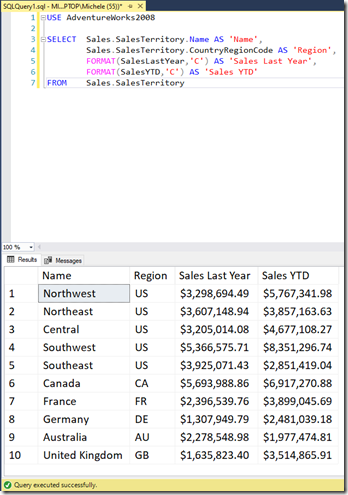 To display the results as different currencies add culture code to the currency format function. A few examples are listed below.
FORMAT(SalesLastYear, 'C', 'en-US') USA
FORMAT(SalesLastYear, 'C', 'pt-br') Brazil
FORMAT(SalesLastYear, 'C', 'en-gb') Great Britain
FORMAT(SalesLastYear, 'C', 'de-de') German
FORMAT(SalesLastYear, 'C', 'zh-cn') Chinese
FORMAT(SalesLastYear, 'C', 'ja-jp') Japanese
FORMAT(SalesLastYear, 'C', 'it-it') Italian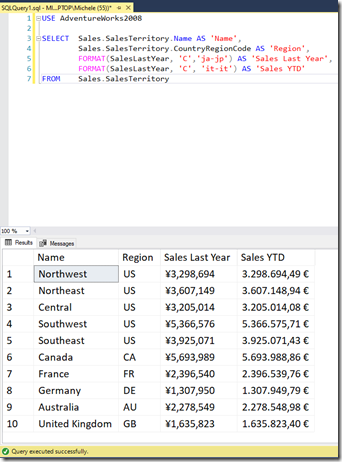 Reference link to comprehensive culture code list (SQL-Server-Helper.com) - http://www.sql-server-helper.com/sql-server-2012/format-string-function-culture.aspx